Recent News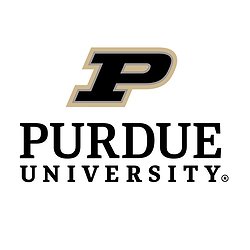 Liang He announced today that he has accepted a tenure-track faculty offer from Purdue University in the Department of Computer Graphics Technology (Twitter link). Befitting Liang, his announcement was accompanied by a wonderfully creative logo and sketch for his new Purdue-based lab called De4m Lab (Deform Lab). Congratulations Profess He! Any student would be lucky to have you as an advisor! Jon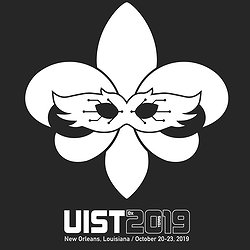 We were excited that our paper entitled "Ondulé: Designing and Controlling 3D Printable Springs" was accepted for publication at UIST'19. This work was led by UW CSE PhD student Liang He, and co-authored by Huaishu Peng (UMD CS), Michelle Lin (UW CSE Undergrad), Ravikanth Konjet (Microsoft), François Guimbretière (Cornell), and Jon Froehlich.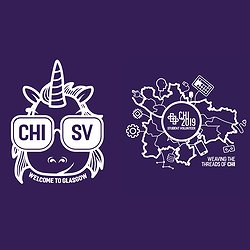 PhD student Liang He's t-shirt design was selected for the ACM CHI student volunteers (SV). This is the second time that Liang has won the CHI t-shirt design contest (the first time was at CHI'14). CHI is the premier conference in the field of Human-Computer Interaction, which will be in Glasgow, UK this year. Liang's t-shirt design is based on a Unicorn, Scotland's national animal (front), and a map of Glasgow (back). Congratulations Liang!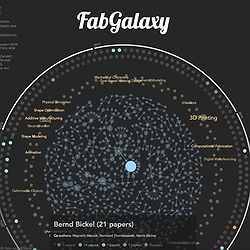 Excited to announce that FabGalaxy, a new online interactive visualization tool for searching fabrication research in HCI and Graphics, is live under Personal Fabrication Research in HCI and Graphics: An Overview of Related Work. Thank you to the support from HCI Engineering Group, MIT CSAIL, which is led by Prof. Stefanie Mueller.
Liang He will present his research projects on fabrication at ACM Symposium on Computational Fabrication and attend the first SIGCHI Summer School Computational Fabrication and Smart Matter. He will share his previous work and recent research with computational fabrication community. He will be granted ACM SIGCHI Travel Fund for attending the summer school.