Jon E. Froehlich
Associate Professor, CS
University of Washington
I am an Associate Professor in the Paul G. Allen School of Computer Science and Engineering at the University of Washington, a Sloan Fellow, and NSF CAREER awardee. My research is in Human-Computer Interaction (HCI) with a focus on high-value social domains such as accessibility, environmental sustainability, and STEM education. I have published over 50 peer-reviewed publications; eleven have been honored with awards, including Best Papers at ACM CHI and ASSETS and a 10-Year Impact Award at UbiComp. Since becoming a professor in 2012, I have taught ~250 undergraduate students and ~150 graduate students in HCI, Design, and UbiComp courses and served as a research advisor to nine graduate students, 50+ undergraduates, and 15 high school students. From 2012-2017, I was an Assistant Professor in Computer Science at the University of Maryland.
Recent News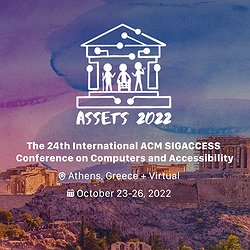 The ASSETS'22 webpage is now live with a logo designed by Makeability Lab member and ASSETS'22 Website and Graphic Design Co-Chair, Liang He. Professor Froehlich is the ASSETS'22 General Chair. Here is the official announcement on Twitter. You can also learn more about the ASSETS'22 logo here. I've copied over the Twitter thread for convenience: The ASSETS'22 logo attempts to capture the essence of Athens—the art, the architecture, the history—as well as the ASSETS conference—technology, disability, community. We want to share a bit of the story behind this design. The hand-drawn aesthetic and Parthenon form honors Greek art and architecture. The Parthenon, which sits atop the Acropolis and beautifully backdrops the city skyline, is composed of manually-drawn printed circuit board (PCB) traces—foundational to all computing. The intersecting blue and purple watercolors represent the hybrid format—the virtual and physical—as the two colors blend together. And so too will attendees as they meet and exchange ideas both remotely and in-person. Within the Parthenon are three ASSETS community members engaged in discussion and sharing. These iconic representations were inspired by Microsoft's Inclusive Design Toolkit and Professor Branham and students Antony Mukkath and Emory Edwards collaboration with Google on inclusive imagery (link). The logo underwent many rounds of ideation, critique, iteration before being finalized. Here is an earlier version with the still hand-drawn aesthetic and PCB Parthenon but with olive branches, highlighting the importance of olives and olive trees to Greek history and culture. The logo was designed by our amazing #ASSETS2022 Graphic and Website Chairs Liang He, Judy Kong, and Jaylin Herskovitz with feedback from the Organizing Committee. We are grateful for their work and thankful for their incredible creativity and talents 👏👏👏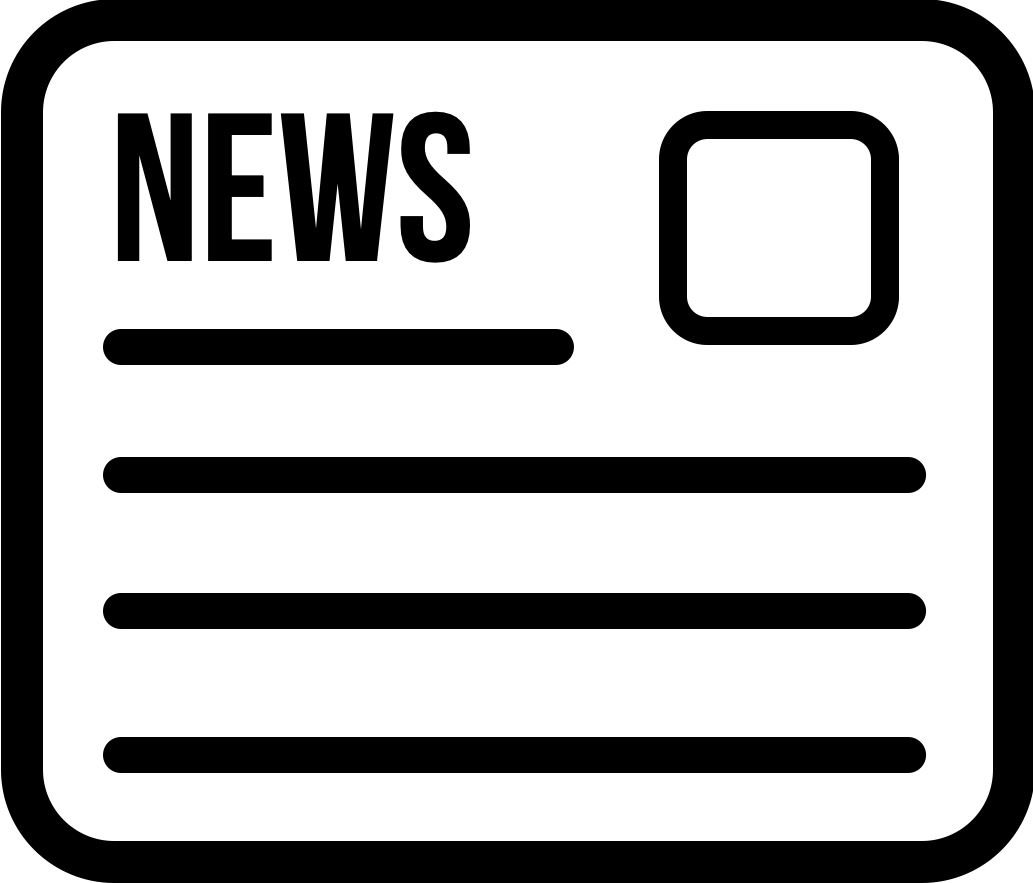 Together with Professor Fabior Miranda from the University of Illinois, Chicago and Maryam Hosseini from Rutgers/NYU, we ran a mini-symposium session on the The Future of Global-Scale Spatial Data Collection and Analyses on Urban (in)Accessibility for People with Disabilities at the 2nd Spatial Data Science Symposium 2021. In our session, we brought together experts in disability, human mobility, urban planning, and computer science to discuss state-of-the-art methods for measuring the quality, condition, and accessibility of urban infrastructure, how these methods may enable new types of geospatial analysis and visualization, and the possibilities for data-driven policy change and accessible urban development. Our overarching goal was to identify open challenges, share current work across disciplines, and spur new collaborations. We had over 50 participants join and a set of lightning talks from Anat Caspi and Nick Bolten from UW, Roberto M. Cesar Jr. and Eric K. Tokuda, from the University of São Paulo, Holger Dieterich and Sebastian Felix Zappe from Sozialhelden, Victor Pineda from the Inclusive Cities Lab and Worldenabled.org, Yochai Eisenberg from the University of Illinois, Chicago, and Andres Sevtsuk from UW. Froehlich, J. E., Miranda, F., Hosseini, M., Bolten, N., Caspi, A., Cesar Jr., R. M., Dieterich, H., Eisenberg, Y., Pineda, V., Saha, M., Saugstad, M., Sevtsuk, A., Silva, C. T., Tokuda, E. K., Zappe, S. F. (2021). The Future of Global-Scale Spatial Data Collection and Analyses on Urban (in)Accessibility for People with Disabilities. Spatial Data Science Symposium 2021.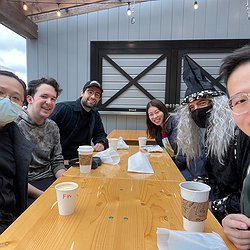 It was wonderful to meetup with new and old Makeability Lab students at the newly opened cafe, Saint Bread, on the edge of campus at the Portage Bay waterfront.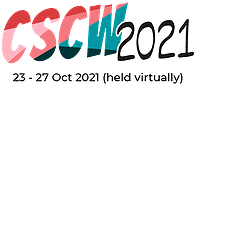 Our CSCW'21 paper entitled Social, Environmental, and Technical: Factors at Play in the Current Use and Future Design of Small-Group Captioning led by HCDE PhD student Emma McDonnell was just selected for both an Honorable Mention and Diversity and Inclusion award. From the email notification: Awards and Recognitions were chosen by a separate Awards Committee based on both the original reviews and committee members' assessment of nominated papers. Selections for Recognitions for Contributions to Diversity & Inclusion were also overseen by Equity and Accessibility Co-Chairs Jean Hardy and Kate Ringland. Congratulations to the team! McDonnell, E., Liu, P., Goodman, S., Kushalnagar, R., Froehlich, J. E., Findlater, L. (2021). Social, Environmental, and Technical: Factors at Play in the Current Use and Future Design of Small-Group Captioning. CSCW Proceedings of PACM HCI. DOI: https://doi.org/10.1145/3479578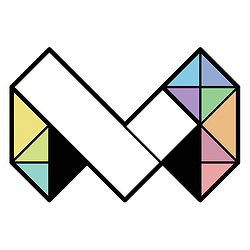 We are excited to welcome four new PhD students to the Makeability Lab: Katherine Juarez, Lisa Orii, Daniel Campos Zamora, and Xia Su.