I am an Associate Professor in the Paul G. Allen School of Computer Science and Engineering at the University of Washington, a Sloan Fellow, and NSF CAREER awardee. My research is in Human-Computer Interaction (HCI) with a focus on high-value social domains such as accessibility, environmental sustainability, and STEM education. I have published over 50 peer-reviewed publications; eleven have been honored with awards, including Best Papers at ACM CHI and ASSETS and a 10-Year Impact Award at UbiComp. Since becoming a professor in 2012, I have taught ~250 undergraduate students and ~150 graduate students in HCI, Design, and UbiComp courses and served as a research advisor to nine graduate students, 50+ undergraduates, and 15 high school students. From 2012-2017, I was an Assistant Professor in Computer Science at the University of Maryland.
Recent News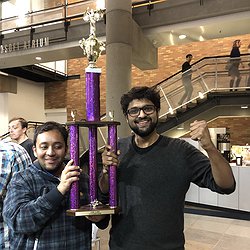 At TGIF today, the security students hosted with the theme "Would you rather..." Attendees could brainstorm and submit questions that had a "would you rather..." scenario with two choices. The most popular submission was given an award.
Makeability Lab students Dhruv Jain and Venkatesh Potluri submitted: "Would you rather have a camera look at you or a microphone listen to you all the time?" This ended up being a very provocative question with the TGIF attendees having mixed opinions.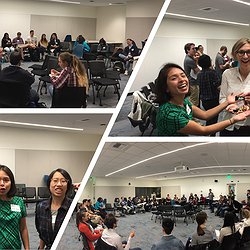 Manaswi co-organized the PhD workshop at the DUB Retreat this year and Jon co-organized the retreat itself. Read Andy Ko's writeup about the event here with links to slides.
DUB is our grassroots, cross-campus alliance of students, faculty, and industry partners interested in HCI and Design at UW. The DUB Retreat has become an annual event aimed at bringing us together to reflect on our community, share fresh ideas, and hang out. Last year, we had over 150 attendees. This year RSVPs were at 180+.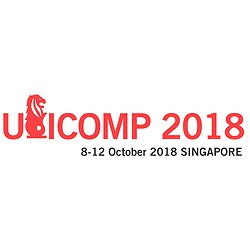 Our UbiComp 2008 paper entitled "Flowers or a Robot Army?: Encouraging Awareness & Activity with Personal, Mobile Displays" was just honored with a 10-Year Impact Award at the UbiComp 2018 conference. Congratulations to my co-authors!
It was a tremendous privilege (and humbling experience) working at Intel Research in the mid-2000s. I benefited tremendously from the mentorship of Mike Y. Chen, Ian Smith, and particularly Sunny Consolvo and James Landay.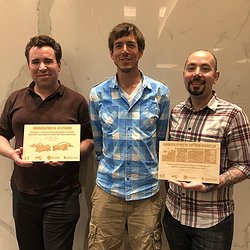 Please join me in congratulating Drs. Matt Mauriello and Lee Stearns who successfully passed their PhD defenses today. One of the true joys of being a professor is seeing students develop into independent scholars like Matt and Lee. Matt is now off to a post-doc at Stanford and Lee will join APL at Johns Hopkins.
Thanks to the fantastic committee members as well who spanned from multiple disciplines, universities, and parts of the US! :) Matt's dissertation is entitled " Designing and Evaluating Next-generation Thermographic Systems to Support Residential Energy Audits" and available for
download here
and Lee's dissertation is entitled "Handsight: A Touch-based Wearable System to Increase Information Accessibility for People With Visual Impairments" and available
here
.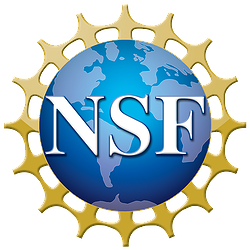 Our $1.2m NSF grant on "Wearable Sound Sensing and Feedback Techniques for Persons who are Deaf or Hard of Hearing" was just officially awarded. This is research started by Dhruv Jain, Leah Findlater, and Jon Froehlich in the summer of 2014 when Dhruv was between ugrad and MIT. Dhruv is now a PhD student in the Allen School and a member of the Makeability Lab.
The award officially starts Aug 1, 2018 and runs through July 31, 2022. Leah Findlater is the PI along with Co-PIs Froehlich (UW), Ramani Duraiswami (UMD), and Raja Kushalnagar (Gallaudet University). This is the third award for this work following the initial two (a Google Faculty Award and the recent UW Reality Lab funding)--both which helped provide seed funding for the NSF effort.