Quick Info
Project Date Jan. 19, 2014 - May 9, 2019
PIs: Jon E. Froehlich (PI)
Sponsors:
University of Maryland Office of Sustainability
Keywords: energy audits, thermography, robotics, formative inquiry, design probes, sustainable hci, human-robotic interaction, environmental sustainability, human-building interaction, thermal cameras, 3d thermography, aerial robotics, automated energy auditing, building assessment
News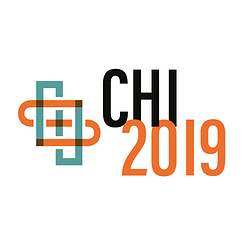 The Makeability Lab had five papers conditionally accepted to CHI'19. We'll see you in Glasgow! Stay tuned for more information. Hoping to post pre-prints in January!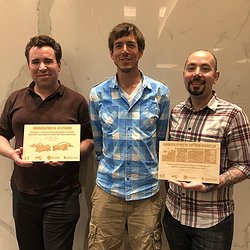 Please join me in congratulating Drs. Matt Mauriello and Lee Stearns who successfully passed their PhD defenses today. One of the true joys of being a professor is seeing students develop into independent scholars like Matt and Lee. Matt is now off to a post-doc at Stanford and Lee will join APL at Johns Hopkins. Thanks to the fantastic committee members as well who spanned from multiple disciplines, universities, and parts of the US! :) Matt's dissertation is entitled " Designing and Evaluating Next-generation Thermographic Systems to Support Residential Energy Audits" and available for download here and Lee's dissertation is entitled "Handsight: A Touch-based Wearable System to Increase Information Accessibility for People With Visual Impairments" and available here.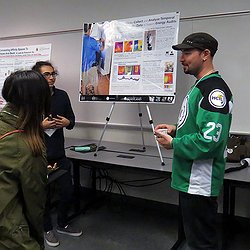 Excited to announce that Matt Mauriello and his team had their temporal thermography poster accepted to this year's ACM Conference on Pervasive and Ubiquitous Computing (Ubicomp 2017). In addition to the poster, Matt also had his work accepted into the Doctoral Colloquium. Congratulations and keep up the good work!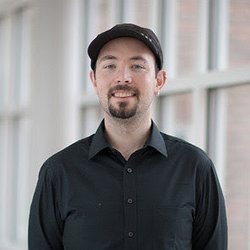 Congratulations to Matt Mauriello who was just selected as an All-S.T.A.R Fellow for his work on scalable thermography--one of sixteen across the entire Graduate School at UMD. The Graduate All-S.T.A.R. Fellowship honors graduate students who are both outstanding scholars and outstanding graduate assistants. Read more about the award here.
Congratulations to Matt Mauriello for passing his PhD proposal on mixed-initiative methods to scale thermographic energy auditing in space and time. Matt has much to celebrate this semester with getting into the Clark Faculty Fellow program, receiving two CHI paper acceptances, and now becoming a PhD candidate. Congrats Matt! And thanks to Andrea Wiggins and David Jacobs for serving on his committee.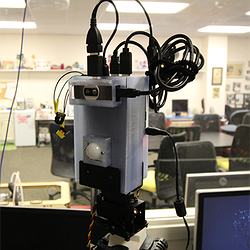 Our research group (the Makeability Lab in the HCIL) is investigating new, scalable methods and tools for thermographic data collection and analysis. We are looking for talented, creative, and self-motivated undergraduate research assistants with strong technical backgrounds and an interest in environmental sustainability to work on a new, easily deployable thermographic sensor. We are specifically looking for student volunteers interested in developing valuable hardware and software skills over the course of the academic year while supporting an ongoing research project. Interested students should have one or more of the following skills and a keen interest in expanding their abilities in some of the other areas: Experience working with single-board computers and accessories Experience designing front-end and back-end web components Experience prototyping applications with Android devices Eagerness to learn and make with rapid prototyping technologies You will be working in the HCIL Hackerspace, will attend weekly research meetings, and will join a team of other talented undergraduate and graduate students. Our short term goal is a publication at CHI2017 and a potential submission to UIST2017. For best consideration, please read this page about undergraduate research and then send your CV and unofficial transcripts to mattm401@umd.edu and CC jonf@cs.umd.edu by September 21st. We will contact a subset of qualified candidates to setup interviews and request other materials. Full details are available on our announcement webpage. Please feel free to forward this announcement.
About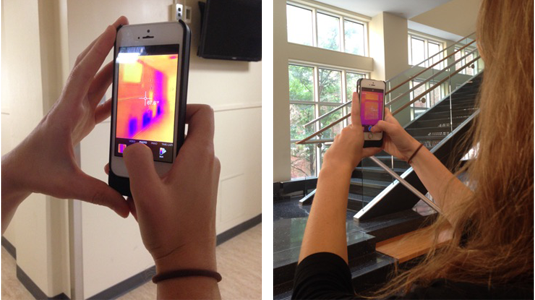 Smartphone-based Thermography
Improving energy efficiency in the built environment is an important global concern. In the United States, for example, buildings account for 41% of primary energy consumption–more than any other sector–and contribute an increasing portion of carbon dioxide emissions (33% in 1980 vs. 40% in 2009). To reduce consumption and emission levels, the U.S. Department of Energy (DOE) recommends energy audits to help identify sources of inefficiencies and reduce consumption (e.g., home energy audits typically identify improvements that lead to 5-30% reductions in utility use). Moreover, energy audits are increasingly becoming part of building efficiency certification programs. In response, interest in energy auditing has increased.
Our work focuses on thermography, a data collection and visual analytics technique utilizing thermal cameras, which energy auditors use to identify, diagnose, and document efficiency issues (e.g., missing insulation, air leakage) in buildings. The use of thermography during an energy audit helps the auditor find and communicate problems to building owners and including thermal imagery in inspection reports has been shown to lead to two primary outcomes: (i) an increased likelihood that the building owners will make retrofit decisions and (ii) an increased likelihood that building occupants will engage in conservation behaviors. With respect to increasing the overall energy efficiency of the built environment, both outcomes are desirable.
Our work investigates scaling thermographic inspections along two dimensions: first, scaling in terms of who can perform thermographic audits by building and evaluating computer assisted thermographic tools to help with both capture and analysis; second, scaling in terms of time by building and evaluating new indoor, automated temporal data collection and analysis tools. Related to this, we explore three key areas: (i) current thermographic energy auditing practices, (ii) the application of machine learning, image processing, and information visualization techniques to classify and gather insights from real world thermographic data, and (iii) developing new methods and tools to support human-oriented thermographic data collection and analysis activities.
Publications
Videos
Understanding the Role of Thermography in Energy Auditing: Current Practices and the Potential for Automated Solutions
Understanding the Role of Thermography in Energy Auditing: Current Practices and the Potential for Automated Solutions
Talks
Photo Gallery