Quick Info
Project Date Sept. 1, 2016 - Present
Keywords: accessibility, accessible urban navigation, accessible cities, physical world accessibility, accessibility map visualizations, urban accessibility
News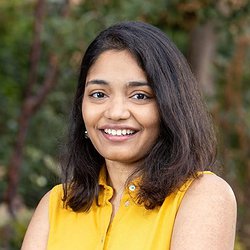 We are incredibly excited and proud of PhD student Manaswi Saha, who was just honored with the 2020 Google PhD Fellowship for her work on Project Sidewalk and urban accessibility. Congrats Manaswi on this well-deserved recognition for your important work. An excerpt of the official blurb from the Allen School News website: Saha, who is one of 53 students throughout the world to be selected for a Google Fellowship, will use those tools to fill an informational gap between citizens and the local government and stakeholders showing where improvements in sidewalks need to be made to make them accessible to all. "Since the beginning of my academic career, my research interests have been towards socially impactful projects. Public service, especially for underrepresented communities, runs in my family," Saha said. "The driving force for the work I do stems from my role model, my father, who dedicated his life towards rural and agricultural development in India. His selfless efforts inspired me to explore how technology can be used for the betterment of society. With this goal in mind, I set out to do my Ph.D. with a focus on high-value social problems." Saha works with Froehlich in the Makeability Lab on one of its flagship ventures, Project Sidewalk. The project has two goals: to develop and study data collection methods for acquiring street-level accessibility information using crowdsourcing, machine learning, and online map imagery and to design and develop navigation and map tools for accessibility.
CSCW2020 June submission results were just released (link), and we were incredibly excited to find out that our paper entitled "Urban Accessibility as a Socio-Political Problem: A Multi-Stakeholder Analysis" was accepted with minor revisions. Of the 593 submissions, only 47 were chosen for 'Minor Revision' (7.9%) and 273 for 'Major Revisions' (46.0%). Through semi-structured interviews with five stakeholder groups, we examine the socio-political challenges surrounding accessible infrastructure development. The paper has some important findings around policy making, gentrification, and urban development tensions related to accessibility and extends and complements our broader research in this area (e.g., Project Sidewalk). Congrats to lead PhD student Manaswi Saha and the rest of the team!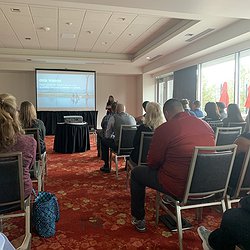 Makeability Lab member Manaswi Saha was an invited keynote speaker to the Washingtion State Ridesharing Organization (WSRO) conference. She gave a talk on Project Sidewalk entitled Project Sidewalk: Mapping the accessibility of the physical world at scale using interactive computational tools. Congrats Manaswi and thanks for representing the Project Sidewalk team.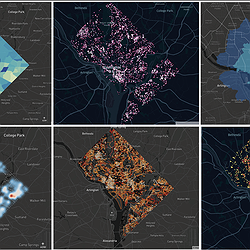 Makeability Lab PhD student, Manaswi Saha, has been accepted into the ASSETS'19 Doctoral Consortium where she will present and receive feedback on her doctoral work entitled "Interactive Tools for Assessing and Understanding Urban Accessibility At Scale". Congratulations Manaswi!
We received an Amazon Catalyst award to fund Manaswi Saha's dissertation research on "Combining Computational and Visualization Techniques to Understand Urban Accessibility at Scale." Congrats Manaswi!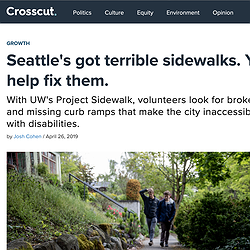 With the recent Seattle and Newberg launch of Project Sidewalk, we have been getting a lot of media attention. Here are a few articles so far (many more to come!): Newberg streets second in nation to be studied with new accessibility metric (The Newberg Graphic, April 2019) Seattle's got terrible sidewalks. You can help fix them. (Crosscut, April 2019)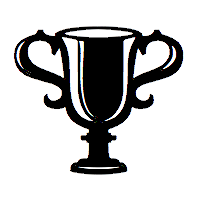 We are honored and excited that the Makeability Lab received two 'Best Paper Awards' at CHI'19, which are given to the top 2% of all submissions at the conference. Anchored Audio Sampling: A Seamless Method for Exploring Children's Thoughts During Deployment Studies by Alexis Hiniker, Jon Froehlich, Mingrui Ray Zhang, Erin Beneteau Project Sidewalk: A Web-based Crowdsourcing Tool for Collecting Sidewalk Accessibility Data At Scale by Manaswi Saha, Michael Saugstad, Hanuma Teja Maddali, Aileen Zeng, Ryan Holland, Steven Bower, Aditya Dash, Sage Chen, Anthony Li, Kotaro Hara, Jon Froehlich
About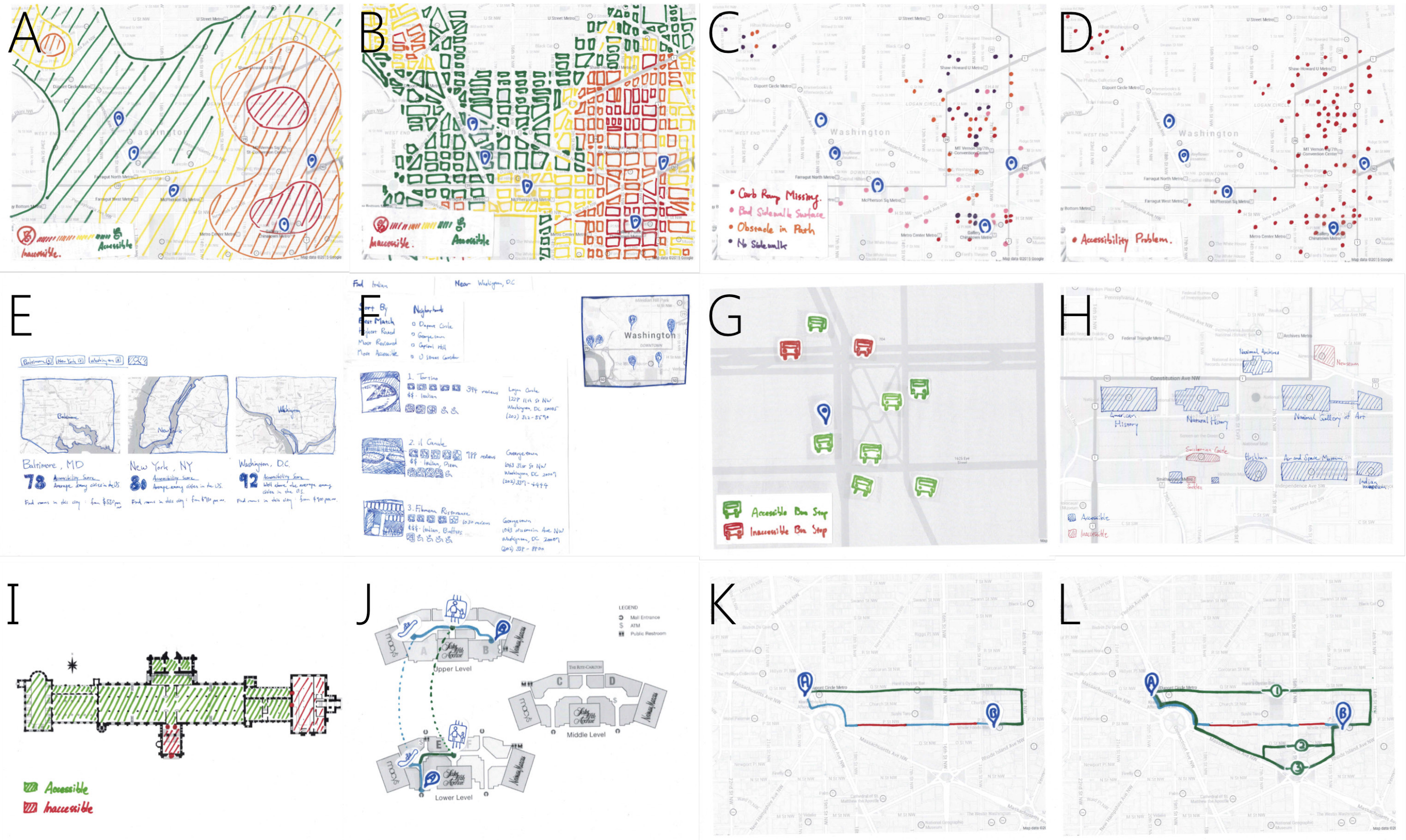 Assistive Location-Based Technologies (ALTs)
In this research, we investigate current methods and tools— both technological and non-technological—that people with impairments use to evaluate the accessibility of the built environment (e.g., streets, businesses) and plan and execute travel. Through participatory design, we actively engage our participants in brainstorming and designing the future of what we call assistive location-based technologies (ALTs)—location-based technologies that specifically incorporate accessibility features to help people with impairments explore, search, and navigate the physical world. Thus far, we have primarily focused on people with mobility impairments but the research agenda is much broader and impacts people of all abilities (sensory, cognitive, and physical). In our CHI'16 paper, we explored: What modern technologies do people with mobility impairments use to evaluate the accessibility of the built environment? What role does technology have in making decisions about travel—both a priori (e.g., when planning) and in situ (e.g., when moving about)? How could future technologies be designed to further improve the way they navigate the physical world? At our CHI'18 SIG, we organized the HCI community to discuss grand challenges and potential solutions under the umbrella of 'inclusive maps.'
Publications
Talks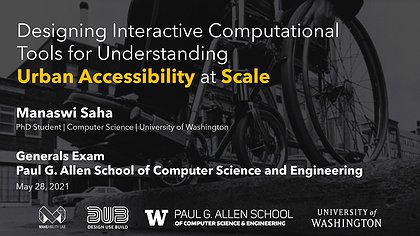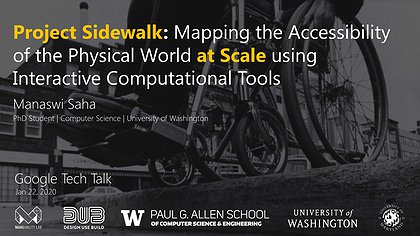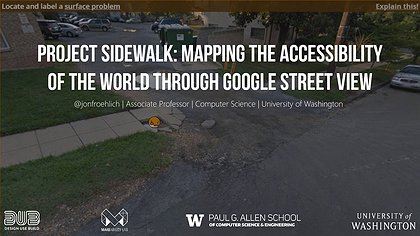 Current Project Members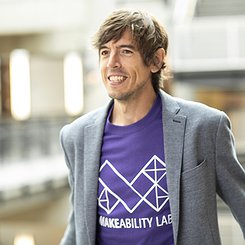 Jon E. Froehlich
Feb 2012 - Present
Associate Professor
Computer Science
University of Washington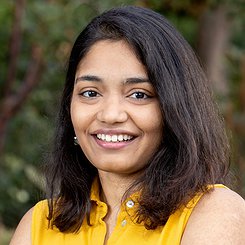 Past Project Members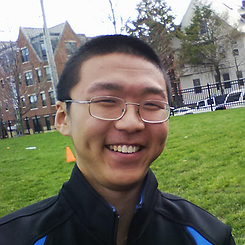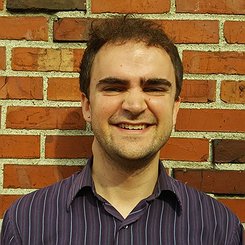 Richard McGovern
Dec 2018 - Jul 2019
MS Student
iSchool
University of Washington