Jon E. Froehlich
Associate Professor, CS
University of Washington
I am an Associate Professor in the Paul G. Allen School of Computer Science and Engineering at the University of Washington, a Sloan Fellow, and NSF CAREER awardee. My research is in Human-Computer Interaction (HCI) with a focus on high-value social domains such as accessibility, environmental sustainability, and STEM education. I have published over 50 peer-reviewed publications; eleven have been honored with awards, including Best Papers at ACM CHI and ASSETS and a 10-Year Impact Award at UbiComp. Since becoming a professor in 2012, I have taught ~250 undergraduate students and ~150 graduate students in HCI, Design, and UbiComp courses and served as a research advisor to nine graduate students, 50+ undergraduates, and 15 high school students. From 2012-2017, I was an Assistant Professor in Computer Science at the University of Maryland.
Recent News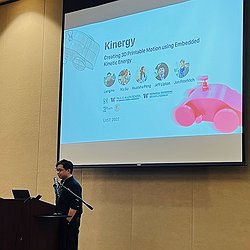 Congratulations to Liang He and Jaewook Lee for presenting work at UIST'22 in Bend, Oregon—the premier publication venue in technical HCI and systems-driven HCI work. Liang presented on Kinergy, an interactive design tool for creating self-propelled motion by harniessing the energy stored in 3D printable springs, which represents ~2 years of research and development (and builds on our prior work Ondule). He, L., Su, X., Peng, H., Lipton, J. I., Froehlich, J. E. (2022). Kinergy: Creating 3D Printable Motion using Embedded Kinetic Energy. Proceedings of UIST 2022. DOI: https://doi.org/10.1145/3526113.3545636 Jae presented RemoteLab, a VR toolkit for Unity designed to facilitate the preparation of remote experiments by providing a set of tools that synchronize experiment state across multiple computers, record and collect data from various multimedia sources, and replay the accumulated data for analysis. Jaewook Lee, Raahul Natarrajan, Sebastian S. Rodriguez, Payod Panda, and Eyal Ofek. 2022. RemoteLab: A VR Remote Study Toolkit. In Proceedings of the 35th Annual ACM Symposium on User Interface Software and Technology (UIST '22). Association for Computing Machinery, New York, NY, USA, Article 51, 1–9. https://doi.org/10.1145/3526113.3545679
Daniel Campos Zamora presented our early work on sPrintr, a mobile 3D printer to enable in-situ fabrication with consumer-grade hardware and fabrication tools, at the 7th Annual ACM Symposium on Computational Fabrication. Congrats Daniel and team!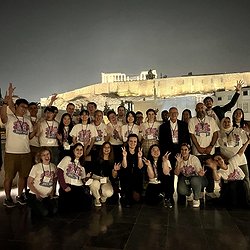 We just completed the first-ever hybrid ASSETS with over 300 participants (virtual and in-person) for which I (Jon Froehlich) was General Chair. I'm so grateful to the record-breaking number of organizing committee members and student volunteers who tirelessly planned the conference for more than a year. Though we are always improving as a community, I am particularly proud of starting a new workshop track this year (led by Kyle Montague and Sowmya Somanath), of creating an inclusive, accessibility-first hybrid experience (led by Christian Vogler with incredible assistance from Kelly Mack, Emma McDonnell, and Laurianne Sitbon), of hosting both Haben Girma and Clatyon Lewis for fantastic keynotes, of initiating new efforts for outreach centered on global participation and increased involvement of educators, particularly for non-R1 institutions, and in celebrating our time together in historic Athens with incredible on-site activities.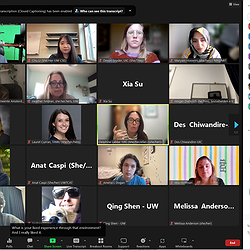 We had a wonderful virtual workshop on the Future of Urban Accessibility—hopefully, the first of many. Thanks to the lead organizers Maryam Hosseini, Yochai Eisenberg, and Fabio Miranda, the entire organizing committee, and all of the authors and participants. We had a wonderful set of talks and discussions about the future of human mobility, urban design, and accessibility. Thanks also to ASSETS'22 for launching its first-ever workshop track in conference history and supporting our workshop.
At the PacTrans 2022 Region 10 Transportation Conference, PhD student Chu Li presented our work on A Pilot Study of Sidewalk Equity in Seattle Using Crowdsourced Sidewalk Assessment Data. This is a collaboration with Professor Stephen J. Mooney in epidemiology along with our collaborators at the University of Illinois at Chicago. We received some great feedback from conference attendees and online as well!