Quick Info
Project Date Sept. 1, 2018 - Present
PIs: Jon E. Froehlich (Co-PI)
Sponsors:
NSF
Keywords: wearables, haptics, accessibility, deaf, hard of hearing, sound visualization, sound awareness, smartwatch
News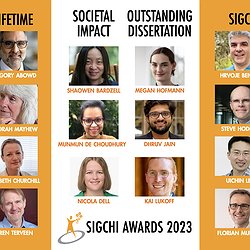 Congrats to Makeability Lab alum Dhruv Jain (now a professor at the University of Michigan) for being honored with the SIGCHI Outstanding Dissertation Award. The Award "recognizes the most outstanding research contributions from recently graduated PhD students within the HCI community, showcasing the quality and impact of HCI research." Congratulations as well to the two other winners: Megan Hofmann and Kai Lukoff. Impressively, all three winners have UW affiliation: Kai was advised by Professors Alexis Hiniker and Sean Munson; Megan by Professor Jen Mankoff and Scott Hudson (CMU); and Dhruv by me and Professor Leah Findlater. The award recognition blurb for Dhruv reads: Dhruv "DJ" Jain is an Assistant Professor in Computer Science and Engineering at the University of Michigan, also affiliated with the School of Information and Department of Family Medicine. His research focuses on accessibility, and investigates the full cycle of identifying user needs, developing novel assistive technology systems, and studying these systems in the field. He got his Ph.D. from University of Washington and Masters from the MIT Media Lab. DJ's dissertation advances the design and evaluation of interactive systems to improve sound awareness for people who are deaf or hard of hearing (DHH). This research, drawing on his own experience as a person who is hard of hearing, has two goals: first, to better understand how DHH people feel about technology-mediated sound awareness and how these feelings manifest across contexts; and second, to design, build, and study new technical solutions for sound using iterative, human-centered design. DJ's dissertation makes contributions across the human-centered design pipeline, including new research methods for disability and technology design, advancing understanding of preferences for sound classification and real-time captioning, designing and implementing new interactive sound awareness systems on IoT devices, smartwatches, and augmented reality glasses, and evaluating these systems in lab studies and field deployments. The work was honored with an ACM ASSETS Best Artifact award, selected for a CACM Research Highlights article, covered by popular press venues including CNN, New Scientist, and Forbes, directly impacted real-time captioning work at Google, and yielded a released app called SoundWatch in the Google Play store that is being used by DHH people across the world for real-time sound recognition. DJ's dissertation exemplifies the use of end-to-end human-centered research to define and advance methods and tools for real-time sound recognition, fundamentally advancing our understanding of DHH people's needs around sound recognition and providing technical solutions to support those needs.
Huge congratulations to recently graduated Makeability Lab PhD student—now Michigan professor—Dhruv Jain on being recognized with the William Chan Dissertation Award. The Allen School has a lovely writeup, which quotes some of my thoughts worth repeating here. "Dhruv's dissertation research makes fundamental advances in the design of sound sensing and feedback systems for people who are deaf or hard of hearing," Froehlich said. "Throughout his dissertation work, Dhruv has worked closely with the DHH community to understand diverse needs and evaluate his systems, including through large online surveys, interviews and field deployments." Jain's own experiences as a DHH individual informed his research and helped shape his focus on the user experience. "Dhruv's dissertation not only exemplifies the human-centered design process in the creation of accessible technologies but also makes transformative technical innovations in integrating AI and HCI to improve information access," Froehlich added. "As a testament to its impact, his work has received multiple paper awards and a Microsoft Research Dissertation Grant, and SoundWatch has been released and downloaded by over 2,000 Android watch users worldwide." As rather surreal twist, I was honored with the same award a decade ago. It is both humbling and even more fulfilling to have one of my own students receive the award. Congrats Dhruv!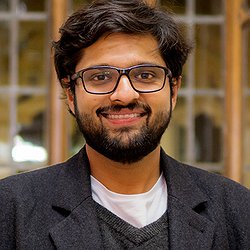 Congratulations to Dhruv Jain who was selected for the prestigious Microsoft Research Dissertation Grant for his work on "Sound Sensing and Feedback Techniques for Deaf and Hard of Hearing Users." The MSR Dissertationg Grant aims to "increase the pipeline of diverse talent receiving advanced degrees in computing-related fields by providing a research funding opportunity for doctoral students who are underrepresented in the field of computing." Read more on the Allen School news page.
Congratulations to Dhruv Jain who was selected for the Google-CMD-IT LEAP Alliance Fellowship. CMD-IT stands for the Center for Minorities and People with Disabilities in IT and is dedicated to "promoting innovation that enriches, enhances, and enables our target communities, such that more equitable and sustainable contributions are possible by all communities."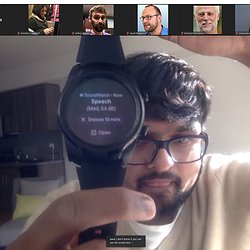 It's my pleasure to announce that Dhruv Jain passed his General Exam entitled Sound Sensing & Feedback Techniques for d/Deaf & Hard of Hearing Users: A Dissertation Proposal. His dissertation work was thoughtfully presented, well rehearsed, and even included two live demos (of HomeSound and of SoundWatch). Congrats DJ! Thanks also to the wonderful committee, including co-chair Professor Findlater and fellow committee members Professors Mankoff, Ladner, Wobbrock, and Bigham—literally an all-star cast of HCI+accessibility experts. You can download the slides here or watch the whole thing on YouTube! A few screenshots of the talk (all but the presenter + interpreters had video off):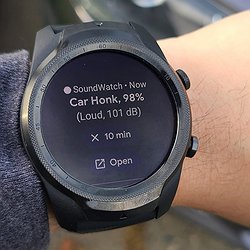 Members of the newly launched UW CREATE accessibility center won all three top awards at ASSETS2020—the top publication venue in accessibility research—including Best Artifact for our SoundWatch work, Best Paper awarded to Professor Leah Findlater and her PhD student Lotus Zhang, Best Student Paper awarded to PhD student Megan Hofmann and colleagues (including her advisor and CREATE co-director Jennifer Mankoff). Congrats all! Relatedly, Sarah McQuate wrote a lovely article on our SoundWatch work—check it out!
We just received news that two of Dhruv Jain's first-authored submissions were accepted to ASSETS'20—an amazing accomplishment. Importantly, the work itself is impactful and diverse. Congrats DJ and all collaborators! The papers are linked below: Jain, D., Potluri, V., Sharif, A. (2020). Navigating Graduate School with a Disability: A Trio-Ethnography. Proceedings of ASSETS 2020. 17 pages. To Appear. Jain, D., Ngo, H., Patel, P., Goodman, S., Findlater, L., Froehlich, J. E. (2020). SoundWatch: Exploring Smartwatch-based Deep Learning Approaches to Support Sound Awareness for Deaf and Hard of Hearing Users. Proceedings of ASSETS 2020. 16 pages. To Appear.
About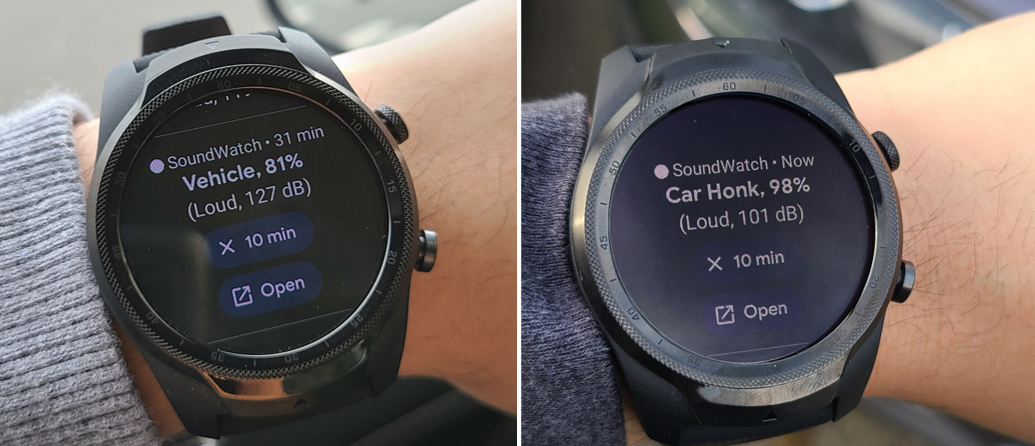 Two example use cases of SoundWatch
We bring you SoundWatch, an Android app that provides glanceable, always-available sound feedback on smartwatches for d/Deaf and hard-of-hearing users. Created by a diverse team at University of Washington and led by a hard-of-hearing innovator who wanted to build for his community, SoundWatch uses machine learning to alert its users to important sounds occurring in their environment. With everything from critical fire alarms to speech alerts, users know they can rely on SoundWatch to make their environment more accessible. In the spirit of innovation and the spread of knowledge, SmartWatch is freely available and open-sourced for anyone wanting to learn more and contribute to its development. Download the app here: soundwatch.dhruvjain.info
Publications
Videos
SoundWatch: Exploring Smartwatch-based Deep Learning Approaches to Support Sound Awareness for Deaf and Hard of Hearing Users
Talks