Dhruv Jain
PhD Student, CS
University of Washington
I am a fourth year PhD student in Computer Science and Engineering at the University of Washington. My research focuses on advancing sound accessibility through deployable HCI+AI systems. My work has been published at top HCI venues such as CHI, ASSETS, and UIST and has received multiple best paper awards and honorable mentions. I am advised by Prof. Jon Froehlich and Prof. Leah Findlater. Before starting my PhD, I completed by masters from MIT Media Lab, bachelors from IIT Delhi, and took a gap year to backpack 21 countries. Through publishing a critical reflection of my travel experiences as a hard of hearing individual, I introduced the unique method of auto-ethnography to the field of accessible computing. My biggest pride is the indoor navigation system for visually impaired users which was installed in Indian National Science Museum for two years. Besides professional life, I provide scuba instruction and conduct DIY workshops—so far, 11 one-week workshops in six low-income countries, total 200+ students. Atleast two teams from these workshops have continued their projects and turned them into multinational companies.
Recent News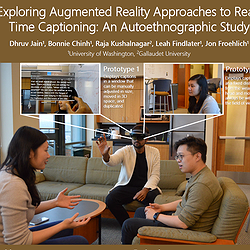 We're proud to announce that UW PhD Student and Makeability Lab Member Dhruv Jain's poster titled "Exploring Augmented Reality Approaches to Real-Time Captioning: An Autoethnographic Study" won the people's choice award in UW Allen School Annual Research Day yesterday! This is part of our larger research agenda on AR Captions Dhruv shares this award with HCDE student Bonnie Chinh, HCDE professor Leah Findlater, Gallaudet University Professor Raja Kushalnagar and CSE professor Jon Froehlich. Read the GeekWire new story here.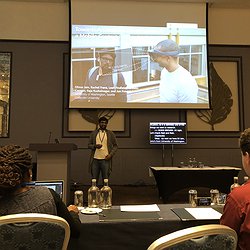 We had a strong representation at ASSETS 2018 in Galway, Ireland- we presented three posters and two full papers. In pictures, see Dhruv Jain presenting his paper on Augmented Reality Captioning in Mobile Context, Lee Stearns presenting "Design of an Augmented Reality Magnification Aid for Low Vision Users" and Jon Froehlich with his poster "How does Urban Accessibility Change over Time"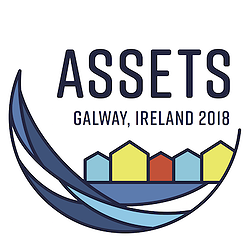 We're going to Galway, Ireland! The Makeability Lab has two full papers and three posters at ASSETS'18. UMD PhD student Lee Stearns led a project entitled Design of an Augmented Reality Magnification Aid for Low Vision Users and explores augmented reality solutions for magnifying text for low-vision users. Lee also had a poster paper accepted entitled Applying Transfer Learning to Recognize Clothing Patterns Using a Finger-Mounted Camera. Both projects are in collaboration with UW HCDE professor Leah Findlater. UW CSE PhD student Dhruv Jain led a project entitled Towards Accessible Conversations in a Mobile Context for People Who Are Deaf and Hard of Hearing and examines real-time captioning solutions for people who are DHH and on-the-move. This work is a collaboration among UW CSE (Dhruv Jain, Jon Froehlich), UW HCDE (Rachel Franz, Leah Findlater) and Gallaudet University in DC (Raja Kushalnagar). The Project Sidewalk team also got two posters in: A Feasibility Study of Using Google Street View and Computer Vision to Track the Evolution of Urban Accessibility , which was based on Ladan Najafizdeh's MS thesis work and Interactively Modeling and Visualizing Neighborhood Accessibility at Scale: An Initial Study of Washington DC , which was led by undergrad extraordinaire Anthony Li along with Manaswi Saha).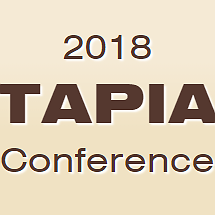 Makeability lab member Dhruv Jain receives travel award from UW Paul G Allen School of Computer Science to attend Tapia Celebration of Diversity in Computing in September 2018. The Tapia conference is the premier venue to acknowledge, promote and celebrate diversity in computing. Congratulations Dhruv!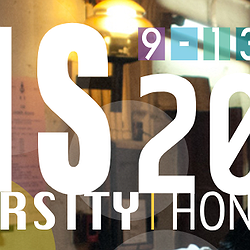 Our CSE PhD Student Dhruv Jain presented a poster at ACM DIS 2018 in Hong Kong! The poster is entitled Exploring Augmented Reality Approaches to Real-Time Captioning: A Preliminary Autoethnographic Study and examines Dhruv's experiences with using real-time captioning on HoloLens in lectures and group meetings. This work is a collaboration among UW CSE (Dhruv Jain, Jon Froehlich), UW HCDE (Bonnie Chinh, Leah Findlater) and Gallaudet University (Raja Kushalnagar).