Quick Info
Project Date May 1, 2019 - Present
Sponsors:
NSF
Keywords: sound visualization, personalization, sound classification, sound recognition, interactive machine learning, teachable machines
News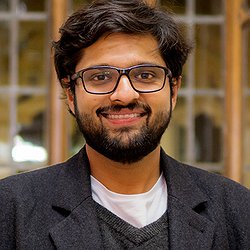 Congratulations to Dhruv Jain who was selected for the prestigious Microsoft Research Dissertation Grant for his work on "Sound Sensing and Feedback Techniques for Deaf and Hard of Hearing Users." The MSR Dissertationg Grant aims to "increase the pipeline of diverse talent receiving advanced degrees in computing-related fields by providing a research funding opportunity for doctoral students who are underrepresented in the field of computing." Read more on the Allen School news page.
Congratulations to Dhruv Jain who was selected for the Google-CMD-IT LEAP Alliance Fellowship. CMD-IT stands for the Center for Minorities and People with Disabilities in IT and is dedicated to "promoting innovation that enriches, enhances, and enables our target communities, such that more equitable and sustainable contributions are possible by all communities."
About

Example Spectrograms of Different Sounds
Automated sound recognition tools can be a useful complement to d/Deaf and hard of hearing (DHH) people's typical communication and environmental awareness strategies. Pre-trained sound recognition models, however, may not meet the diverse needs of individual DHH users. While approaches from human-centered machine learning can enable non-expert users to build their own automated systems, end-user ML solutions that augment human sensory abilities present a unique challenge for users who have sensory disabilities: how can a DHH user, who has difficulty hearing a sound themselves, effectively record samples to train an ML system to recognize that sound? In this project, we are conducting formative inquiries to learn about interactive machine learning (IML) approaches for DHH users and their ideas for personalizable sound recognition tools and then drawing on our findings to design, implement, and evaluate custom IML tools for personalized sound recognition.
Publications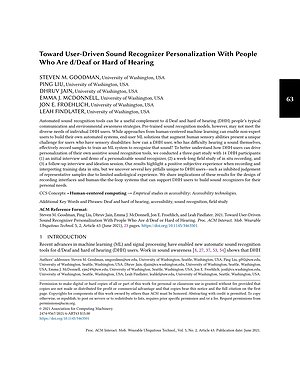 Videos
Toward Sound Recognizer Personalization with d/Deaf and Hard of Hearing Users