Quick Info
Project Date Jan. 1, 2017 - Present
Sponsors:
NSF
UW Reality Lab
Keywords: children, augmented reality, paper craft, prototyping, design process, simulation, prototyping tool
Recent News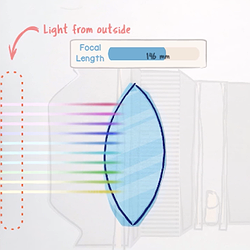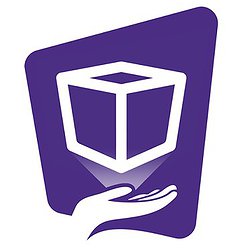 The UW Reality Lab just announced that they are funding our work in augmented reality (AR) and STEM for elementary school learners. Our most recent project in this area, PrototypAR, was just accepted to IDC'19:
Kang, S., Norooz, L., Bonsignore, E., Byrne, V., Clegg, T. L., Froehlich, J. E. (2019).
PrototypAR: Prototyping and Simulating Complex Systems With Paper Craft and Augmented Reality
Proceedings of IDC 2019. 14 pages. To Appear.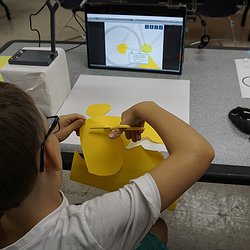 Our paper on PrototypAR, an interactive tangible prototyping system that allows children to rapidly build, test, and iterate on their designs using augmented reality (AR) was accepted to the 2019 ACM Interaction Design and Children (IDC) conference. PrototypAR combines lo-fidelity prototyping to facilitate iterative design, real-time AR feedback to scaffold learning, and a virtual simulation environment to support personalized experiments.
This is a large, collaborative project led by UMD PhD student Seokbin Kang along with Leyla Norooz, Elizabeth Bonsignore, Virginia Byrne, and Tammy Clegg!
See you in Boise, Idaho in June!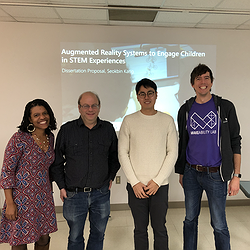 Congratulations to Seokbin Kang who successfully defended his PhD proposal on "Augmented Reality Systems to Engage Children in Everyday STEM Experiences." Thank you to Professors Tammy Clegg and David Jacobs for serving on the committee and providing thoughtful feedback.
About
Prototyping and Simulating Complex Systems with Paper Craft and Augmented Reality: An Initial Investigation
Complex systems such as combustion engines and the human body are made up of interrelated components that form a holistic, interdependent system. Despite their pervasiveness in everyday life, complex systems are challenging for children to learn and for educators to teach. Prior work has shown that students struggle to understand how individual parts of a system affect the system's operation as a whole, narrowly focus on visible aspects like a system's structure, and have limited access to real examples that could affirm or contradict their understanding. We introduce PrototypAR, an AR-based "smart desk" that allows children to prototype complex systems using familiar paper craft, to learn about and correct design mistakes via real-time AR-based feedback, and to test their creations in a digital simulation environment. Our overarching goal is to explore how AR and emerging techniques in computer vision and the learning sciences can be combined to engage children in novel STEM learning experiences.
Publications
Recent Videos
Prototyping and Simulating Complex Systems with Paper Craft and Augmented Reality: An Initial Investigation
YouTube | Paper | PrototypAR