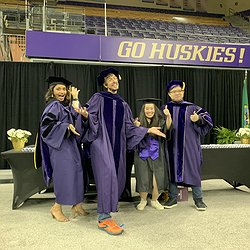 Congratulations 3 PhD Graduates: Manaswi, Liang, and Dhruv!
Published Jun 10, 2022
What a wonderful evening of celebration and ceremony! Tonight, I was honored to hood two of our three Makeability Lab PhD graduates (the third, Dhruv Jain, is still in India due to COVID). It was also fun to see some Makeability Lab undergrad researchers like Aileen Zeng and Hank Tadeusiak!
Congratulations all!