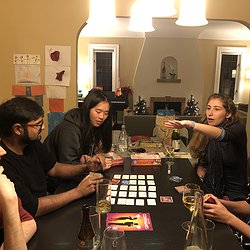 Makeability Lab Thanksgiving!
Published Nov 30, 2019
The Makeability Lab and the Inclusive Design Lab hosted a joint Thanksgiving Potluck. We ate chili, played games (and with cars), and had fun.
Special thanks to Dhruv Jain for bringing his Hot Wheels track, to Aileen for bringing Codenames, and to Kelly Mack for bringing 'chalkboard' cookies (you could write on the top of the cookies with white chocolate "chalk").