Quick Info
Project Date Jan. 1, 2015 - Dec. 30, 2017
Sponsors:
DoD
Keywords: haptics, accessibility, haptic feedback
About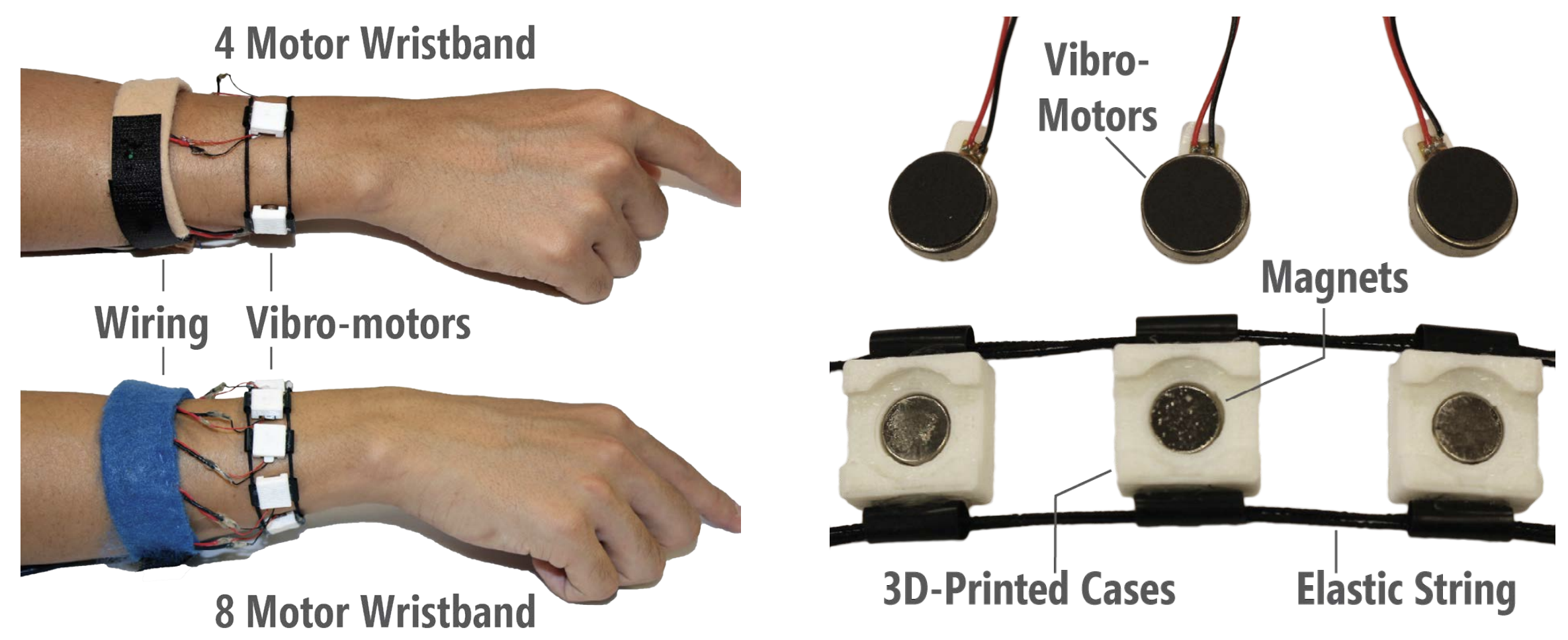 Example Haptic Wristband Prototypes
An example of our four- and eight-motor haptic wristband prototypes examined in our GI'16 and ASSETS'17 papers. Our custom-designed wristband could accommodate wrists of various shapes and sizes. Haptic motors were placed in 3D-printed cases using magneti
Precisely guiding a blind person's hand or finger(s) can be useful for a range of applications from tracing printed text to learning and understanding shapes and gestures. In this research project, we design, build, and study a range of novel haptic devices and actuation patterns to provide directional hand or finger guidance. We explore haptic-only solutions as well as hybrid audio+haptic approaches. We derive implications for the design of finger-worn and wrist-worn directional haptic feedback and describe open areas for future work.
Publications
Evaluating Wrist-Based Haptic Feedback for Non-Visual Target Finding and Path Tracing on a 2D Surface
Jonggi Hong, Alisha Pradhan, Jon E. Froehlich, Leah Findlater
Proceedings of ASSETS 2017 | Acceptance Rate: 26.2% (33 / 126)
keywords: wearables, haptics, accessibility, blind, blind users, haptic feedback, haptic wristband, directional guidance
PDF | doi | Citation | Touchscreen Accessibility | HandSight | Haptic Hand Guidance
Evaluating Haptic and Auditory Directional Guidance to Assist Blind People in Reading Printed Text Using Finger-Mounted Cameras
Lee Stearns, Ruofei Du, Uran Oh, Catherine Jou, Leah Findlater, David Ross, Jon E. Froehlich
ACM Transactions on Accessible Computing (TACCESS) 2016
keywords: wearables, handsight, accessibility, visual impairments, real-time ocr, blind reading