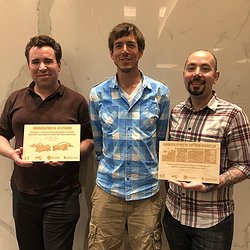 Please join me in congratulating Drs. Matt Mauriello and Lee Stearns who successfully passed their PhD defenses today. One of the true joys of being a professor is seeing students develop into independent scholars like Matt and Lee. Matt is now off to a post-doc at Stanford and Lee will join APL at Johns Hopkins.
Thanks to the fantastic committee members as well who spanned from multiple disciplines, universities, and parts of the US! :) Matt's dissertation is entitled " Designing and Evaluating Next-generation Thermographic Systems to Support Residential Energy Audits" and available for
download here
and Lee's dissertation is entitled "Handsight: A Touch-based Wearable System to Increase Information Accessibility for People With Visual Impairments" and available
here
.