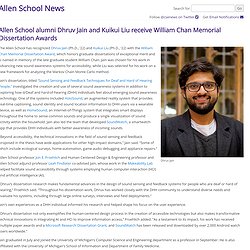 Huge congratulations to recently graduated Makeability Lab PhD student—now Michigan professor—Dhruv Jain on being recognized with the William Chan Dissertation Award. The Allen School has a lovely writeup, which quotes some of my thoughts worth repeating here.
"Dhruv's dissertation research makes fundamental advances in the design of sound sensing and feedback systems for people who are deaf or hard of hearing," Froehlich said. "Throughout his dissertation work, Dhruv has worked closely with the DHH community to understand diverse needs and evaluate his systems, including through large online surveys, interviews and field deployments."

Jain's own experiences as a DHH individual informed his research and helped shape his focus on the user experience.

"Dhruv's dissertation not only exemplifies the human-centered design process in the creation of accessible technologies but also makes transformative technical innovations in integrating AI and HCI to improve information access," Froehlich added. "As a testament to its impact, his work has received multiple paper awards and a Microsoft Research Dissertation Grant, and SoundWatch has been released and downloaded by over 2,000 Android watch users worldwide."
As rather surreal twist, I was honored with the same award a decade ago. It is both humbling and even more fulfilling to have one of my own students receive the award. Congrats Dhruv!