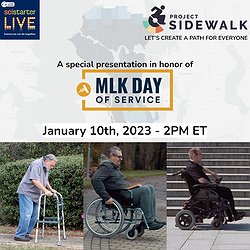 SciStarter + Project Sidewalk: MLK Jr. Day of Service
Published Jan 11, 2023
Project Sidewalk
We were honored and delighted to give a talk on SciStarter in honor of MLK Jr.'s Day of Service. You can view the slides here.
In the words of Dr. King:
Injustice anywhere is a threat to justice everywhere
These words still resonate today as we continue to attempt to address systemic inequities in human mobility and transit access—for which Project Sidewalk is but one small movement forward.
SciStarter is a platform for community science featuring over 1,000 research projects, including Project Sidewalk. If you join SciStarter, you can get credit for using Project Sidewalk—just make sure you're using the same email addresses on both platforms.