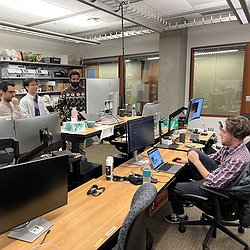 Mikey visits the lab!
Published Dec 06, 2022
So wonderful to have Mikey visit us from CA for the week who hung out in the UbiComp Lab, met with students (many for the first time in person), and just generally enjoyed Seattle.
Unfortunately, I only took but one pic of Mikey working in the lab at UW (but it was concurrent with the World Cup penalty kicks!) 😂⚽🥅.