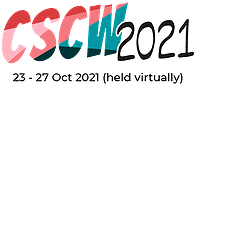 CSCW'21 Honorable Mention and Diversity and Inclusion Award
Published Oct 14, 2021
Our CSCW'21 paper entitled Social, Environmental, and Technical: Factors at Play in the Current Use and Future Design of Small-Group Captioning led by HCDE PhD student Emma McDonnell was just selected for both an Honorable Mention and Diversity and Inclusion award.
From the email notification:
Awards and Recognitions were chosen by a separate Awards Committee based on both the original reviews and committee members' assessment of nominated papers. Selections for Recognitions for Contributions to Diversity & Inclusion were also overseen by Equity and Accessibility Co-Chairs Jean Hardy and Kate Ringland.
Congratulations to the team!
McDonnell, E., Liu, P., Goodman, S., Kushalnagar, R., Froehlich, J. E., Findlater, L. (2021). Social, Environmental, and Technical: Factors at Play in the Current Use and Future Design of Small-Group Captioning. CSCW Proceedings of PACM HCI. DOI: https://doi.org/10.1145/3479578