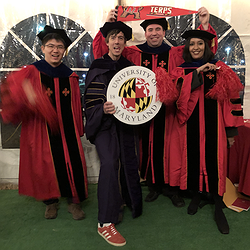 Graduation! Congrats Drs. Stearns and Mauriello!
Published Dec 19, 2018
Congratulations to newly minted PhDs Matt Mauriello, now a post-doc at Stanford, and Lee Stearns, now at the Johns Hopkins Applied Physics Laboratory.
It was an honor to celebrate with Lee and his family and participate in the hooding ceremony at graduation (we celebrated with Matt in spirit as he was unable to travel). I was also honored to hood Meethu Malu, on behalf of Professor Leah Findlater (who was also unable to travel). Working with students is *the* best part of my job. It was wonderful to celebrate their successes last night.