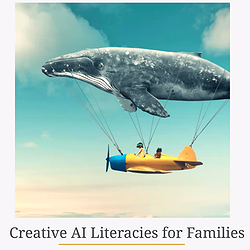 Congrats to Stefania Druga on Passing the PhD Defense!
Published Mar 02, 2023
Congrats to Stefania Druga for passing her iSchool PhD dissertation defense today on the topic of Creative AI Literacies for Families. I was honored to serve on the PhD committee.
Such timely, important work exploring how to develop children and family AI literacy and involve them in AI-assisted creation! Also, best title slide ever, which was generated via DALL E-2 using the new Microsoft Designer—an AI-assisted design tool (how fitting!).